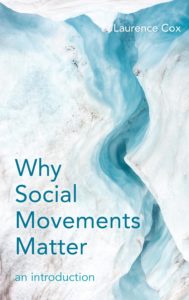 Why Social Movements Matter is out today from Rowman and Littlefield International. Available with a 30% discount code (WSMM180) from https://www.rowmaninternational.com/book/why_social_movements_matter/3-156-a21ddec8-7526-464b-a10e-0f3c2a38dd7f
Why Social Movements Matter does what the title says and makes the case for a different way of looking at the world to the usual top-down and static pictures of social reality. It's a short, clear and accessible read written for general audiences, left and progressive people who aren't involved in movements, and students and academics in other fields. The book shows how much movements are part of our daily lives and how they have shaped the world we live in. It explores the relationship between social movements and "the left", how movements develop and change, and the interaction between movements and social thought.
Why Social Movements Matter is designed to help convincing students and colleagues, friends and family about the fundamental significance of the movements we're involved in and think about.
Some kind endorsements:
 "This is the book we all were waiting for! Laurence Cox is an experienced scholar-activist, who writes in a concise, clever and accessible style. Cox argues that social movements are part of everyday life and help to shape the world but we don't notice. They also escape the social scientist's analysis. In this intervention, Cox makes us aware of what social movements are and are not, what is their relation with society as a whole, with institutional politics, with intellectuals and with the Left.
The book is a must for both those who want to know more about social movements, and those who teach and learn political sociology and social movement studies."
– Ana Cecilia Dinerstein, author of The Politics of Autonomy in Latin America: the Art of Organising Hope
"Why Social Movements Matter reminds us how the struggles of past generations have shaped our world. The accessible style draws us effortlessly into rigorous reflection on the tensions between movements and political institutions, the meaning of 'the left' today, and the interplay between collective agency and social structures. Never ducking the challenges involved, Cox inspires us towards the building of counter-power and the creative potential that lies in -learning from each other's struggles'."
– Gee McKeown, Activist Trainer, Ulex Project
"Laurence Cox has been an innovating force in social movements studies for more than two decades – relentlessly developing perspectives that speak to the knowledge interests of activists, rather than to narrow scholastic concerns. His keen insights into how social movements make and change our worlds are condensed in a clear and compelling form in this gem of a book, which will be essential reading for anyone wanting to know why social movements matter."
– Alf Gunvald Nilsen, author of Adivasis and the State: Subalternity and Citizenship in India's Bhil Heartland
"Why Social Movements Matter is a must-read for anyone curious about this topic. This concise book is a gem. Highly accessible in style, it is a lucid and engaged introduction into the diverse movements that shape society in often crucial ways and that generate hopes for the future."
– Markus S. Schulz, Vice-President for Research, International Sociological Association (ISA) and host of the futureswewant project
"The timing of Laurence Cox's new book couldn't be better. It's urgent that activists, organizers and scholars better understand why, when and how social movements win, and why they fail. Too little attention is focused on social movements in an era of bold right-wing attacks on much of what earlier social movements achieved."
– Jane McAlevey, US labor organizer and author of No Shortcuts: Organizing for Power in the New Gilded Age